Overview of Endodontic Surgery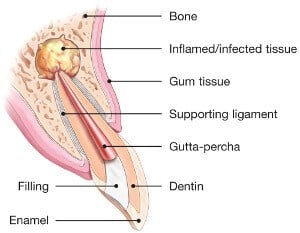 The goal of a root canal is to fully remove the infection from your tooth, but the tooth roots have multiple tiny branches where bacteria may remain or come back. If your tooth gets re-infected after you have had a root canal done, our team of board-certified endodontic specialists typically recommend an apicoectomy. An effective solution, an apicoectomy takes out any infection in the gum and bone near the tooth's root, plus the affected tip or tips. Also known as a root-end resection or endodontic microsurgery, an apicoectomy may save the upper area of the tooth and avoid disturbing a dental restoration (crown or bridge).
Reviews
"Above, and beyond expectations!"
- D.P. /
Google /
Jan 13, 2023
"This place is awesome! Everyone from the receptionist to Eric, made me feel safe and very well taken care of!"
- J.C. /
Google /
Jan 12, 2023
"Excellent service. Did a great job."
- R.P. /
Google /
Dec 13, 2022
"The office is beautiful the staff is friendly and caring Dr McIntosh is very professional caring friendly I would recommend Dr McIntosh for root canals he's awesome!"
- T.B. /
Google /
Dec 07, 2022
"Went in with tooth pain that needed a root canal. After a quick exam, they got me sorted right away. Was totally painless and nothing like you would expect. I was in and out in like 40 minutes and my tooth felt great afterward. Great staff and as great an experience as one could have to get your tooth drilled."
- N.L. /
Google /
Dec 05, 2022
Previous
Next
To begin the treatment, local anesthesia will be applied to needed areas. Sedation methods can be added based on the complexity of your treatment or for dental anxiety and fears. We will start by creating an incision through the gum tissue to reveal the tooth's root. Any infected tips and surrounding tissue will be addressed before the area is thoroughly cleaned. To make sure the infection is completely removed, a dental dye will highlight tooth cracks. As soon as your tooth is sealed, we can close the gums using sutures.
Recovering From an Apicoectomy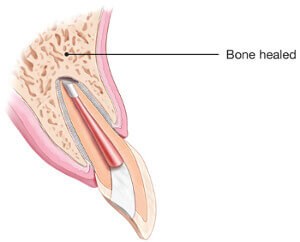 After an apicoectomy, a member of our team may write a prescription for antibiotics or pain medication. You can use cold compresses or ice packs to reduce inflammation for the first day following your procedure. You might experience some numbness, soreness, or bruising for 3 – 5 days. One of our endodontic specialists will talk to you about further instructions for your recovery period.
Related Procedures