Overview of Endodontic Surgery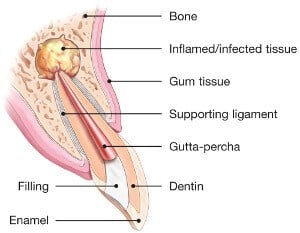 The goal of a root canal is to fully remove the infection from your tooth, but the tooth roots have multiple tiny branches where bacteria may remain or come back. If your tooth gets re-infected after you have had a root canal done, our team of board-certified endodontic specialists typically recommend an apicoectomy. An effective solution, an apicoectomy takes out any infection in the gum and bone near the tooth's root, plus the affected tip or tips. Also known as a root-end resection or endodontic microsurgery, an apicoectomy may save the upper area of the tooth and avoid disturbing a dental restoration (crown or bridge).
Reviews
"Dr. H. Randolph Scott is amazing; pleasant personality, accommodating, and highly skilled. I've had 3 different root canal experiences and this was, by far, the best; quick and painless. The office staff members are also very friendly, accommodating, and efficient. I wish WME handled all forms of dental work!"
- M.S. /
Google /
Jan 12, 2022
"They fit me in very promptly for which I was grateful. Then Milly took me under her wing and Dr Thompson did the hard part! Thanks you guys saved my tooth and I was able to avoid lot of extra trouble. Good work!"
- M.S. /
Google /
Jan 06, 2022
"My 15 yr. old grandson needed a root canal done and Western Mass Endodontics was the referral his local dentist gave us. Eric Shapiro was the Endodontist that performed the root canal. We can't say enough good things about the Dr. and the staff. It was amazing from start to finish and even a call from Dr. Shapiro hours after the procedure to see how my grandson was doing. His mother was beyond satisfied.....A++++++++"
- M.D. /
Google /
Dec 22, 2021
"Thank you for a wonderful and painless experience in receiving my first root canal! The work that was done was awesome and the atmosphere was pleasant. I would highly recommend your services to family and friends. Western Mass Endo of Longmeadow provides professional care and service that is the best in Western Massachusetts. Great place for quality dental care! Thank you !"
- L.L. /
Google /
Dec 11, 2021
"So grateful for the quality and efficiency of work here. Great management and leadership, highly reccomend!"
- H.L. /
Google /
Dec 04, 2021
Previous
Next
To begin the treatment, local anesthesia will be applied to needed areas. Sedation methods can be added based on the complexity of your treatment or for dental anxiety and fears. We will start by creating an incision through the gum tissue to reveal the tooth's root. Any infected tips and surrounding tissue will be addressed before the area is thoroughly cleaned. To make sure the infection is completely removed, a dental dye will highlight tooth cracks. As soon as your tooth is sealed, we can close the gums using sutures.
Recovering From an Apicoectomy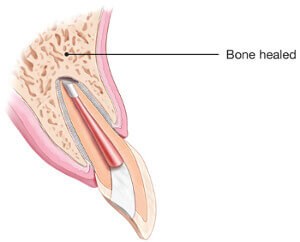 After an apicoectomy, a member of our team may write a prescription for antibiotics or pain medication. You can use cold compresses or ice packs to reduce inflammation for the first day following your procedure. You might experience some numbness, soreness, or bruising for 3 – 5 days. One of our endodontic specialists will talk to you about further instructions for your recovery period.
Related Procedures