Quite a few things may result in additional problems following a root canal therapy. Sometimes the entire problem wasn't eliminated during therapy and in different cases, a new infection might have developed in the tooth. After the tooth demonstrates signs of disease again, our team of endodontic specialists will normally recommend an endodontic retreatment.
Reviews
"I just want to say that this was one of the best dental experiences I've had. The wait time was very minimal, I was able to get in, get my X-Rays done, have a scan done of the area, and have the Root canal performed very quickly. Dr. Shapiro was thorough with his explanations of what he was doing and kept all pain to an absolute minimum. Although dental work is not fun WME made it a lot more bearable. Also Dr Shapiro provided a follow up the next day to make sure the tooth was feeling good. Truly an amazing organization."
- J.M. /
Google /
May 17, 2023
"Quick, professional, and the Dr doesn't ask you questions when he's working in your mouth. I would recommend Dr Scott to anyone."
- S.M. /
Google /
May 12, 2023
"Very impressed with their speed, professionalism, and COVID precautions. Thank you for taking care of your staff and patients."
- K.O. /
Google /
May 09, 2023
"I got right in for an emergency visit even though I had never been there before. The entire staff was extremely welcoming and very helpful. Dr. Shapiro was amazing. He did my emergency root canal so quickly and I did not feel a thing. My whole experience was a 10 out of 10."
- D.C. /
Google /
Apr 01, 2023
"Dr. Schapiro was amazing! I have really bad dental anxiety and this was my first root canal ever but he made the process quick, painless and comfortable! He followed up with me the next morning to check in. I definitely recommend their office!"
- K.C. /
Google /
Apr 01, 2023
Previous
Next
COMMON REASONS FOR RETREATMENT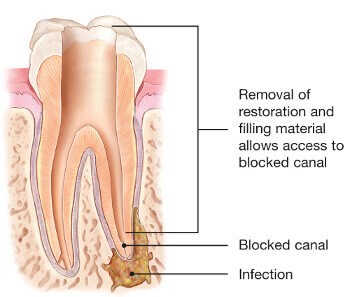 • Abscess or other signs of disease still present following a root canal
• Recurring discomfort or pain in the tooth that received root canal therapy
• Accessory canals were not detected during the initial root canal procedure
• Failure to have a crown or other dental restoration placed in a timely manner following initial root canal treatment
UNDERSTANDING THE PROCESS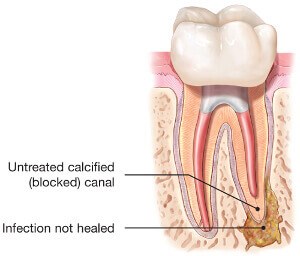 If endodontic retreatment isn't ideal, our specialists may recommend additional procedures to treat the condition and save your oral health:
• Apicoectomy
• Tooth extraction
Your endodontic retreatment procedure will be done in our office using anesthesia to temporarily numb the needed region. In the event the process is lengthy or if you have dental worries, stronger sedation choices might be used. As soon as you are prepared, one of our specialists will open the tooth and then take out the filling substance placed in the last process. The inside of the tooth, especially each of the root tips, will be completely disinfected. Once the tooth is cleaned and analyzed, it'll be fortified with a new temporary filling and then sealed.
A new restoration (crown, filling, or bridge) is then normally placed on the treated tooth by your general dentist to protect and strengthen the tooth structure.
Related Procedures