Quite a few things may result in additional problems following a root canal therapy. Sometimes the entire problem wasn't eliminated during therapy and in different cases, a new infection might have developed in the tooth. After the tooth demonstrates signs of disease again, our team of endodontic specialists will normally recommend an endodontic retreatment.
Reviews
"So fast and efficient and capable!"
- J.A. /
Google /
Jun 11, 2021
"No one likes getting dental work done let alone a root canal. The folks at western mass Endo are fantastic, the dr and assistant that worked on me where like the NASCAR pit crew of dentistry. I couldn't believe how fast they were able to complete the work all with a smile and reassuring words. Can't say enough good things about them!!!!"
- S.N. /
Google /
Jun 10, 2021
"Dr. Shapiro is a amazing human and dentist! I don't know about you, but I get super anxious going to he dentist. His presence made me feel at ease and comfortable prior to my procedure, a root canal. He x-rayed multiple times to verify completion & chatted with me throughout the process. To end the day- he followed up with a text and asked me how I was doing! Strongly recommend this dentist! ⭐️⭐️⭐️⭐️⭐️⭐️⭐️⭐️⭐️⭐️"
- V.T. /
Google /
Jun 08, 2021
"Quick, painless and professional. Absolutely best experience I've had. As far as dentist visits go"
- V.K. /
Google /
Jun 07, 2021
"The staff is wonderful and the surgeon did an excellent job. I'm very happy with the work."
- M.D. /
Google /
Jun 06, 2021
Previous
Next
COMMON REASONS FOR RETREATMENT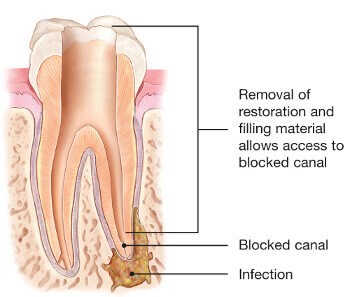 • Abscess or other signs of disease still present following a root canal
• Recurring discomfort or pain in the tooth that received root canal therapy
• Accessory canals were not detected during the initial root canal procedure
• Failure to have a crown or other dental restoration placed in a timely manner following initial root canal treatment
UNDERSTANDING THE PROCESS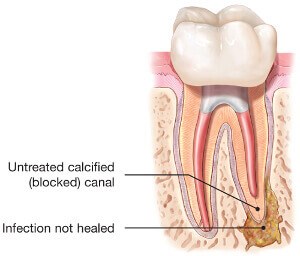 If endodontic retreatment isn't ideal, our specialists may recommend additional procedures to treat the condition and save your oral health:
• Apicoectomy
• Tooth extraction
Your endodontic retreatment procedure will be done in our office using anesthesia to temporarily numb the needed region. In the event the process is lengthy or if you have dental worries, stronger sedation choices might be used. As soon as you are prepared, one of our specialists will open the tooth and then take out the filling substance placed in the last process. The inside of the tooth, especially each of the root tips, will be completely disinfected. Once the tooth is cleaned and analyzed, it'll be fortified with a new temporary filling and then sealed.
A new restoration (crown, filling, or bridge) is then normally placed on the treated tooth by your general dentist to protect and strengthen the tooth structure.
Related Procedures