Quite a few things may result in additional problems following a root canal therapy. Sometimes the entire problem wasn't eliminated during therapy and in different cases, a new infection might have developed in the tooth. After the tooth demonstrates signs of disease again, our team of endodontic specialists will normally recommend an endodontic retreatment.
Reviews
"I recently had the privilege of visiting Western Mass Endo in West Springfield for a root canal procedure, and I couldn't be more thrilled with the exceptional care and expertise I received. From start to finish, my experience was nothing short of outstanding, and I am delighted to share my glowing review. Dr. Shapiro and the entire staff at the clinic were not only welcoming and compassionate but also highly professional. The moment I walked through the door, I was greeted with a warm smile and made to feel at ease. The waiting area was clean and comfortable, and the staff provided excellent customer service, ensuring that all my questions and concerns were addressed promptly. When it came time for the root canal procedure, Dr. Shapiro's competence was evident. His knowledge and skill in this field are truly impressive. He explained the entire process in a clear and understandable manner, alleviating any apprehensions I had. Throughout the procedure, he constantly checked in with me to ensure I was comfortable and pain-free, which I greatly appreciated. What truly sets Dr. Shapiro apart is his attention to detail and commitment to excellence. The root canal was executed with precision, and I experienced minimal discomfort during and after the procedure. Dr. Shapiro's gentle touch and steady hand were evident throughout, making the entire process as smooth and stress-free as possible. He even followed up with me later that day and the next day to make sure everything was feeling good and that my recovery was on track. I also want to express my deep appreciation for Dr. Shapiro's incredible dental assistants, Erin and Rachel, who played a crucial role in my positive experience. They were not only proficient in their tasks but also incredibly kind and attentive. From assisting Dr. Shapiro during the procedure to providing reassurance and answering my questions, their support was invaluable. Their friendly and compassionate demeanor helped alleviate any anxiety I had, making me feel like I was in the best possible hands. In conclusion, I can't praise Dr. Shapiro and his team enough for their outstanding service. Not only did they save my tooth with a successful root canal, but they also made the entire experience as pleasant as possible. If you're in need of a root canal, I wholeheartedly recommend Dr. Shapiro. You'll be in the hands of a dedicated and skilled professional who truly cares about your well-being and oral health. Thank you, Dr. Shapiro, for your exceptional work and commitment to your patients!"
- J.D. /
Google /
Nov 06, 2023
"I was booked for an appointment last Friday when I was dealing with tooth pain and needing a suspected root canal. They got me in same day, and were wonderful. They made the process of getting a root canal stress free and painless. This is the third time I have had Dr. Odierna and I can not recommend him enough. Very kind and efficient!"
- A.H. /
Google /
Nov 06, 2023
"I had a root canal yesterday with Dr. Eric Shapiro. It was painless, swift, and efficient -- nothing like the root canal I had 15 years ago! I highly recommend Dr. Shapiro and this practice."
- K.D. /
Google /
Oct 25, 2023
"Very pleased with the office staff and Dr. Shapiro. Was nervous about my root canal but it was done quickly and efficiently. Highly recommend!"
- S.D. /
Google /
Oct 11, 2023
"From the reception staff, to the nurse and doctor, everyone I encountered was incredibly kind and helpful. They made sure I understood the procedure (as much as I wanted to know!) and kept me comfortable the whole way through. I would absolutely recommend to family and friends."
- K.W. /
Google /
Oct 06, 2023
Previous
Next
COMMON REASONS FOR RETREATMENT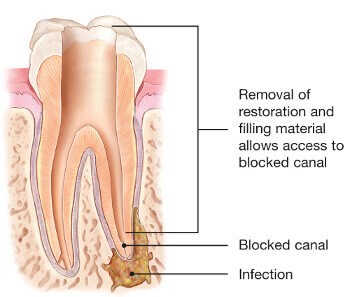 • Abscess or other signs of disease still present following a root canal
• Recurring discomfort or pain in the tooth that received root canal therapy
• Accessory canals were not detected during the initial root canal procedure
• Failure to have a crown or other dental restoration placed in a timely manner following initial root canal treatment
UNDERSTANDING THE PROCESS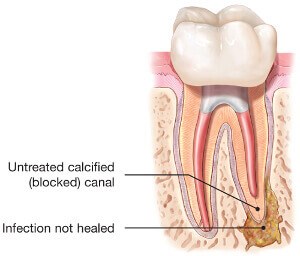 If endodontic retreatment isn't ideal, our specialists may recommend additional procedures to treat the condition and save your oral health:
• Apicoectomy
• Tooth extraction
Your endodontic retreatment procedure will be done in our office using anesthesia to temporarily numb the needed region. In the event the process is lengthy or if you have dental worries, stronger sedation choices might be used. As soon as you are prepared, one of our specialists will open the tooth and then take out the filling substance placed in the last process. The inside of the tooth, especially each of the root tips, will be completely disinfected. Once the tooth is cleaned and analyzed, it'll be fortified with a new temporary filling and then sealed.
A new restoration (crown, filling, or bridge) is then normally placed on the treated tooth by your general dentist to protect and strengthen the tooth structure.
Related Procedures