OVERVIEW OF TRAUMATIC INJURIES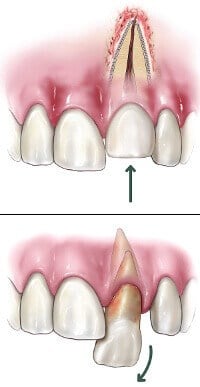 An injury or trauma to your teeth, soft tissues in your mouth (tongue, gums, and lips) or jawbone may be brought on by a direct strike to the mouth area. Oral injuries can occur playing sports, during an auto collision, or in regular mishaps. Trauma may cause many issues to happen, such as chipped teeth, loose teeth, cuts to your gums, or possibly a broken jaw.
Oral injury treatments will change based upon your specific case. Even if your injury may not look serious or you are not in pain, patients must seek out immediate attention from one of our endodontic specialists to tend to the injury and prevent additional complications. At Western Mass Endo, our team of specialists performs many procedures to fix dental problems that result from injury. Contact our practice immediately following a traumatic oral injury to set up an emergency appointment.
Reviews
"I would recommend WMEndo over and over! It was a clean, professional, and top notch experience. I needed care and was able to get in at one of the offices a little further away but it was the next day which was great. The front desk staff was courteous, had papers for me to fill out with one on COVID, and they have air purifiers that kill viruses. They took me in for a consult, did the procedure, and I was on my way within 30-40 minutes. I was very numb and the doctor was kind, strong, and made sure that I was doing okay and checked in the whole time. The nurse was also really sweet in letting me know exactly what was going on. I got x-rays and they decided I was a good candidate for a root canal so once I was numbed up they put in a dental dam that goes around the tooth and snaps in to protect your face and mouth from excess debris. It was quite a wonderful protective barrier and made things quick and easy. Professional, sterile, prepared, quality equipment and up to date tools and methodology while being warm and safe and comfortable. Made me feel like I was in good hands! The infection was deep. I was already on antibiotics so he did not want to overprescribe them which is wise, I definitely trust their judgment. They asked me if I had any questions. Eric even texted me later to make sure the tooth was doing okay and it was much better. They were clear about me feeling free to call with any questions or needs afterwards. One year later I get a free check up to make sure it's healing well. I made a follow up appointment with my dentist for the finished crown, it's just a temp plug, but it took away all the pain I had in my tooth before. When I got home I told my mom I would have a root canal in all my teeth there (haha, hopefully not necessary though) but really, it was the best experience it could've possibly been with the help of Western Mass Endodontics! Saved a little money paying with a debit card. I would absolutely recommend this practice, at any of the offices, but Dr Eric Shapiro is the best and did a superior number! Anyone needing this service absolutely needs to go here to be taken care of, I highly recommend it!"
- J.P. /
Google /
Oct 08, 2021
"I had a difficult tooth canal, both because it was calcified and did not go straight up the tooth, but rather veered off to the side before reaching the top. This caused my dentist to stop the procedure halfway through and refer me to an endodontist. Dr. Scott completed the root canal with ease and he also had a great disposition and bedside manner. The assistant (Millie) was a delight and kept me chatting during the interim wait periods to keep me at ease. I'm very pleased and will absolutely return to Western Mass Endodontics in the future should the need arise."
- M.N. /
Google /
Sep 29, 2021
"Dr. Shapiro was very friendly and thorough, explained everything in detail. Consistently checking in to ensure there was no pain or discomfort. Staff was extremely friendly."
- B.B. /
Google /
Sep 20, 2021
"I highly recommend Western Mass Endo! Dr. Shapiro and team were amazing. My root canal was completely painless and I was in and out in 30 minutes. Dr. Shapiro followed up with me via text later in the day and I was pleasantly surprised by this gesture. 5 stars!!!"
- D.K. /
Google /
Sep 16, 2021
"The West Springfield office got me in within an hour for an emergency root canal. Dr. Shapiro was so professional and gentle, the whole procedure was absolutely painless. He followed up with me later in the day to make sure everything was feeling okay. I'm so thankful for them!"
- R.W. /
Google /
Sep 14, 2021
Previous
Next
An injury or trauma to your mouth may happen to you at any moment. Your problem might be a chipped or cracked tooth, loose teeth, root fractures, knocked-out teeth, a dislocated or broken jawbone, or cuts on your tongue or gums. Whether you're in pain or bleeding, you should get in touch with Western Mass Endo to make an emergency appointment. We can also suggest methods to store a lost tooth or reduce your discomfort.
The number of treatments that will be necessary to address your trauma will be dependent on the severity of the injury. A member of our endodontics team will assess your trauma and may take digital images to comprehend the level of the injury. We will subsequently explain and discuss your treatment choices.
Sometimes, surgical intervention is required, particularly for a significant trauma to your mouth. Other cases might only require a simple treatment with little or no anesthesia. A number of procedures may be needed to completely heal the injury. These treatments will be spaced out to permit time for healing.
Whether a minor or major injury, trauma to your teeth, gums, or jaw has to be handled right away to prevent future problems. At Western Mass Endo, we will help you develop the best treatment strategy for your particular injury. To find out more, contact our office to schedule an appointment.
Related Procedures