OVERVIEW OF TRAUMATIC INJURIES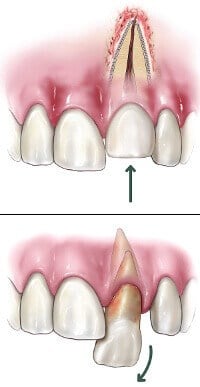 An injury or trauma to your teeth, soft tissues in your mouth (tongue, gums, and lips) or jawbone may be brought on by a direct strike to the mouth area. Oral injuries can occur playing sports, during an auto collision, or in regular mishaps. Trauma may cause many issues to happen, such as chipped teeth, loose teeth, cuts to your gums, or possibly a broken jaw.
Oral injury treatments will change based upon your specific case. Even if your injury may not look serious or you are not in pain, patients must seek out immediate attention from one of our endodontic specialists to tend to the injury and prevent additional complications. At Western Mass Endo, our team of specialists performs many procedures to fix dental problems that result from injury. Contact our practice immediately following a traumatic oral injury to set up an emergency appointment.
Reviews
"Efficient, business like, gave me the facts. Let me make the choice, and they were ready to do the work. Clean environment, huge medical grade air filtration; an important feature. A safe feeling."
- T.B. /
Google /
Jan 14, 2021
"It was almost a pleasure to have a root canal done. It was painless and stress free."
- A.M. /
Google /
Jan 07, 2021
"I REALLY ENJOYED TALKING WITH THE STAFF THEY MADE ME FEEL LIKE A PART OF THE FAMILY"
- A.P. /
Google /
Dec 10, 2020
"This office was brilliant! Had to have a root canal done and could not have found a better place to have it done. The staff were all great and Dr. Scott is top notch! I would recommend this place to everyone!"
- N.S. /
Google /
Nov 18, 2020
"First Root canal. Hopefully the last. All of the staff were helpful and accommodating. The procedure was quick and relatively painless; considering I had a bad infection. It's been 24 hours since my procedure and I feel much better, the swelling is going down. Thank you W.mass endo"
- J.C. /
Google /
Nov 06, 2020
Previous
Next
An injury or trauma to your mouth may happen to you at any moment. Your problem might be a chipped or cracked tooth, loose teeth, root fractures, knocked-out teeth, a dislocated or broken jawbone, or cuts on your tongue or gums. Whether you're in pain or bleeding, you should get in touch with Western Mass Endo to make an emergency appointment. We can also suggest methods to store a lost tooth or reduce your discomfort.
The number of treatments that will be necessary to address your trauma will be dependent on the severity of the injury. A member of our endodontics team will assess your trauma and may take digital images to comprehend the level of the injury. We will subsequently explain and discuss your treatment choices.
Sometimes, surgical intervention is required, particularly for a significant trauma to your mouth. Other cases might only require a simple treatment with little or no anesthesia. A number of procedures may be needed to completely heal the injury. These treatments will be spaced out to permit time for healing.
Whether a minor or major injury, trauma to your teeth, gums, or jaw has to be handled right away to prevent future problems. At Western Mass Endo, we will help you develop the best treatment strategy for your particular injury. To find out more, contact our office to schedule an appointment.
Related Procedures