OVERVIEW OF TRAUMATIC INJURIES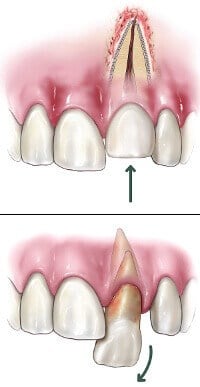 An injury or trauma to your teeth, soft tissues in your mouth (tongue, gums, and lips) or jawbone may be brought on by a direct strike to the mouth area. Oral injuries can occur playing sports, during an auto collision, or in regular mishaps. Trauma may cause many issues to happen, such as chipped teeth, loose teeth, cuts to your gums, or possibly a broken jaw.
Oral injury treatments will change based upon your specific case. Even if your injury may not look serious or you are not in pain, patients must seek out immediate attention from one of our endodontic specialists to tend to the injury and prevent additional complications. At Western Mass Endo, our team of specialists performs many procedures to fix dental problems that result from injury. Contact our practice immediately following a traumatic oral injury to set up an emergency appointment.
Reviews
"I highly recommend western mass endo. Very professional, efficient, kind and pain free. I've had a few root canals and this was by far the best experience I've had. I want to thank Dr. Shapiro, Rachel and the rest of the staff for a great experience."
- P.W. /
Google /
Sep 24, 2022
"I had an appointment at Western Mass Endodontics in September.Unfortunately my tooth got infected and the pain was excruciating.I called there and they took me in within 2 hours.The staff and the doctor were Awesome! They took me right in the room and the doctor relieved my pain within minutes of sitting in the chair.He did my root canal in like an hour.This doctor is the best,and his entire staff are very caring as well. If you are in need of a root canal ,this is the place to go .I highly recommend them.Im hoping to not have to return lol,but if I have to I will. Leslie P"
- L.P. /
Google /
Sep 03, 2022
"Dr. Odierna did a great job on my complicated root canal. He's a skilled surgeon who pulled it off without a hitch. A couple of days later I'm feeling virtually no discomfort. Debbie his assistant was also great: a warm, friendly, skilled professional. Dr. O treated her graciously throughout the demanding procedure. Many thanks to both you guys!"
- F.G. /
Google /
Aug 27, 2022
"Very good. Caring staff. They saved my tooth. Fast and almost no pain during or after procedure."
- J.S. /
Google /
Aug 25, 2022
"Office space was clean and typical Dr office style. Staff was welcoming and friendly. Dr was very attentive and focused on the work that was being done. Next day and the result seems to be good. Limited pain."
- A.I. /
Google /
Aug 21, 2022
Previous
Next
An injury or trauma to your mouth may happen to you at any moment. Your problem might be a chipped or cracked tooth, loose teeth, root fractures, knocked-out teeth, a dislocated or broken jawbone, or cuts on your tongue or gums. Whether you're in pain or bleeding, you should get in touch with Western Mass Endo to make an emergency appointment. We can also suggest methods to store a lost tooth or reduce your discomfort.
The number of treatments that will be necessary to address your trauma will be dependent on the severity of the injury. A member of our endodontics team will assess your trauma and may take digital images to comprehend the level of the injury. We will subsequently explain and discuss your treatment choices.
Sometimes, surgical intervention is required, particularly for a significant trauma to your mouth. Other cases might only require a simple treatment with little or no anesthesia. A number of procedures may be needed to completely heal the injury. These treatments will be spaced out to permit time for healing.
Whether a minor or major injury, trauma to your teeth, gums, or jaw has to be handled right away to prevent future problems. At Western Mass Endo, we will help you develop the best treatment strategy for your particular injury. To find out more, contact our office to schedule an appointment.
Related Procedures