Overview of Root Canal Therapy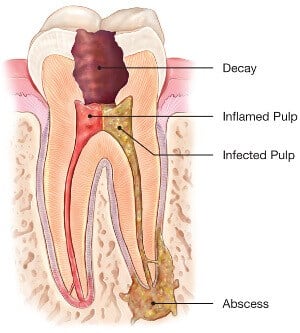 If detected early on, tooth decay is addressed with a standard filling or something similar to remove the decay and close off the area. But when the decay spreads beyond the outer tooth and affects the inner portion (pulp) of the tooth, you will likely need a root canal.
Often called an endodontic treatment, root canal therapy at Western Mass Endo removes the damaged pulp from the tooth, sanitizes the internal portion, and then fills and seals the tooth. Our team of endodontic specialists may recommend a root canal to area individuals because it treats the infection and keeps the decay from moving to other teeth (creating a larger issue).
Infection that reaches the pulp of your tooth may be the result of a cavity or deep crack in the tooth or a physical injury. The most obvious signs that you could have an infection are tooth pain, jaw pain, swollen and discolored gums, and discoloration of the affected tooth. If the infection is not addressed, the infection can spread, causing increased pain. Set up an appointment at Western Mass Endo right away if you feel or notice any changes in your mouth.
Root Canal Therapy Reviews
"Had very good experience in office, had root canal done, its is going strong..."
- N.M. /
Google /
Dec 05, 2018
"I had a root canal performed on Thursday, Oct. 17th. I was very nervous, as I had not had some good experiences in the past. WME was fantastic! The most pain I felt was a very quick shot in the roof of my mouth. The procedure was pain free. The next day I waited for the pain to set in, but it never did. I am very impressed!!"
- S.A. /
Google /
Nov 05, 2019
"I had to see Dr. Record for a root canal and I was extremely nervous. He and the hygienists and staff took great care of me. They went into depth about the procedure and what they would be doing so I wouldn't get nervous. He and the staff were painless while reassuring my nerves. They even have a tv over the chair so patients can watch a show or movie to distract them. He let me watch X-Men with the volume cranked up so it drowned up the sounds of the dental tools. I'm not a fan of the dentist but between Dr. Record, the staff and Hugh Jackman, I'd say I got the best treatment in a worst case scenario."
- M.B. /
Google /
Dec 05, 2018
"The Dental assistant and Dr. were professional,friendly and felt I was in good hands.Received a REAL root canal today not a knock off from a regular dentist that fail ! Live and learn. Thanks for the wonderful experience at the Dentist. Never thought I would say that."
- D.M. /
Google /
Sep 05, 2019
"If you have to have a root canal -. this is the place!! No pain, awesome dentist and highgenice. Heaven knows if that is spelled right."
- A.R. /
Google /
Nov 05, 2019
Previous
Next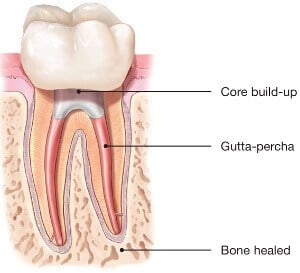 Prior to the treatment, we will discuss your anesthetic/sedation options with you. We do not want you to feel nervous, anxious, or scared during your appointment. Some individuals ask for nitrous oxide (laughing gas) or oral-conscious sedation for a root canal. Our endodontic specialists are very sympathetic about dental fears and will try to help you make the necessary decision about your sedation needs. To perform an endodontic procedure, a member of our team will examine the innermost part of your tooth and extract the decayed pulp. Afterward, the inner chamber will be carefully cleaned to eliminate any remaining debris. To finalize the therapy, the tooth is filled with a dental filler to seal and protect it from further decay.
Recovering From a Root Canal
Based on the method of sedation that was chosen, you might need to have an adult drive you home following your root canal. You should expect your mouth to feel tender or swollen, but these are normal symptoms and can be quelled with anti-inflammatory medications. We recommend that you set up a visit with your general dentist to have a dental restoration placed following your root canal treatment. You should also schedule a follow-up visit six months later with our endodontists to check the healing of your treated tooth. A member of our team will examine the area to make sure the infection has been eradicated and that there is no cause for concern.
At your consultation, our staff will give you cost estimates to align your treatments with your health needs and your budget. If you currently carry dental insurance, we will call your provider to figure out your benefits. If you do not have dental insurance, Western Mass Endo takes several payment methods and may be able to assist you in finding medical financing options.
Related Procedures