Overview of Root Canal Therapy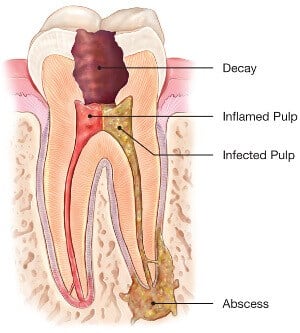 If detected early on, tooth decay is addressed with a standard filling or something similar to remove the decay and close off the area. But when the decay spreads beyond the outer tooth and affects the inner portion (pulp) of the tooth, you will likely need a root canal.
Often called an endodontic treatment, root canal therapy at Western Mass Endo removes the damaged pulp from the tooth, sanitizes the internal portion, and then fills and seals the tooth. Our team of endodontic specialists may recommend a root canal to area individuals because it treats the infection and keeps the decay from moving to other teeth (creating a larger issue).
Infection that reaches the pulp of your tooth may be the result of a cavity or deep crack in the tooth or a physical injury. The most obvious signs that you could have an infection are tooth pain, jaw pain, swollen and discolored gums, and discoloration of the affected tooth. If the infection is not addressed, the infection can spread, causing increased pain. Set up an appointment at Western Mass Endo right away if you feel or notice any changes in your mouth.
Root Canal Therapy Reviews
"Efficient office, kind and friendly staff. I had a 2:30 appointment and I left by 3:30 after a root canal. Wonderful experience. Not to even mention Dr. Shapiro!!!"
- M.B. /
Google /
Jun 28, 2023
"Everyone there treated me with such compassion for the pain I was in. They even got me in earlier than expected , and when I arrived they again showed compassion and worked quickly to resolve my issue. Had a root canal and felt in good hands the whole time. Thank you all for your professionalism and care!"
- B.M. /
Google /
Jun 28, 2023
"One does not usually imagine coming home from a root canal procedure thinking "Wow, that was Fantastic"! But Dr. Scott and the team at the Greenfield office accomplished exactly that. I'd been having chronic pain for months/years in molar #14 and was very worried about saving that tooth. The pre-exam with Dr. Scott was both informative and comforting as he explained in detail the goals and options of the procedure. I was lucky to get an appointment just two weeks later (thanks Laurie!) whereupon Dr. Scott answered a few more questions before getting started. The skill and precision of his work during that next hour was nothing short of amazing, whilst he also kept in touch with how I was doing at all times. I felt very safe and cared for and now, two days later, am overjoyed to have a tooth that feels normal again. Thank you, Dr. Scott, for your expertise and exacting work, as well as your kindness and respect in helping me through a tough spot."
- A.S. /
Google /
Jul 22, 2023
"Everyone was so friendly and professional. No pain root canal!"
- M.F. /
Google /
Jul 21, 2023
"I cannot tell you how amazing Western Mass Endodontics is. I needed a root canal and got same day service. Dr. Shapiro was so nice. The entire experience was great."
- R.L. /
Google /
Jul 25, 2023
Previous
Next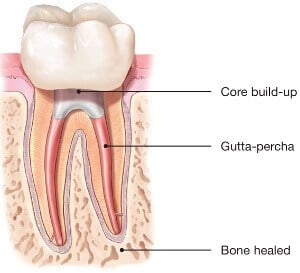 Prior to the treatment, we will discuss your anesthetic/sedation options with you. We do not want you to feel nervous, anxious, or scared during your appointment. Some individuals ask for nitrous oxide (laughing gas) or oral-conscious sedation for a root canal. Our endodontic specialists are very sympathetic about dental fears and will try to help you make the necessary decision about your sedation needs. To perform an endodontic procedure, a member of our team will examine the innermost part of your tooth and extract the decayed pulp. Afterward, the inner chamber will be carefully cleaned to eliminate any remaining debris. To finalize the therapy, the tooth is filled with a dental filler to seal and protect it from further decay.
Recovering From a Root Canal
Based on the method of sedation that was chosen, you might need to have an adult drive you home following your root canal. You should expect your mouth to feel tender or swollen, but these are normal symptoms and can be quelled with anti-inflammatory medications. We recommend that you set up a visit with your general dentist to have a dental restoration placed following your root canal treatment. You should also schedule a follow-up visit six months later with our endodontists to check the healing of your treated tooth. A member of our team will examine the area to make sure the infection has been eradicated and that there is no cause for concern.
At your consultation, our staff will give you cost estimates to align your treatments with your health needs and your budget. If you currently carry dental insurance, we will call your provider to figure out your benefits. If you do not have dental insurance, Western Mass Endo takes several payment methods and may be able to assist you in finding medical financing options.
Related Procedures